Management Policies
Message from the CEO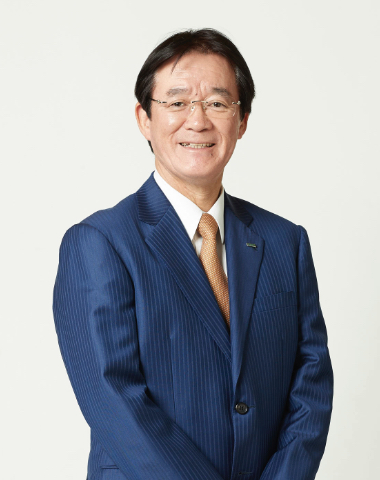 Group corporate philosophy and raison d'etre
On April 1, 2021, the Sawai Group, which has Sawai Pharmaceutical as its core company with a corporate philosophy of "Always putting patients first," took a new step forward as "Sawai Group Holdings" with a holding company structure under the new corporate philosophy of "Always putting healthier lives first".
While the rapidly declining birthrate, the increasing aging population, and the spread of COVID-19 have greatly expanded the expectations and needs of healthcare companies, the deteriorating of healthcare financing has made it a global challenge to provide efficient and necessary medical services to everyone so that they can achieve healthy and full lives. The Sawai Group as a whole will leverage its wealth of knowledge and technological capabilities in the pharmaceutical field to contribute to the solving of social issues and the development of society in our own unique way.
The core offering that the Sawai Group provides will continue to be the stable supply of affordable, high-quality generic pharmaceuticals as a social infrastructure.
In addition to these efforts, we will actively take on the challenge of providing products and services with high levels of value that go beyond conventional therapeutic drugs through collaboration with a variety of players, including those in the IT and digital fields.
Major organizations and roles of the holding company
In order to effectively and efficiently fulfill the functions of the holding company, a Group Strategy Committee has been established to take steps so that the collective strengths of the Group as a whole can be demonstrated. At the same time, the Group Investment Committee has been established under the Group Strategy Committee to make optimal investment decisions with a view to maximizing the corporate value of the group and achieving sustainable growth.
We will also establish various committees to promote and manage group-wide sustainability such as SDGs (Sustainable Development Goals), ESG (Environmental, Social and Governance), and CSR (Corporate Social Responsibility), risk management, compliance, information security, and crisis management. Additionally, a Group Governance Committee will be created to oversee these committees, in an effort to strengthen and enhance group-wide governance.
The Sawai Group's greatest asset is its employees
The greatest asset of the Sawai Group is the people who have supported our sustainable growth with sincerity and a strong sense of mission.
We will continue to realize our sustainable growth by creating a system that maximizes the potential of each and every Sawai Group employee, actively investing in human resources, and strengthening diversity and inclusion.
Active efforts toward DX (Digital Transformation)
Looking ahead to post-COVID-19, we will continue to transform ourselves into an advanced company that utilizes IT and actively takes on the challenge of providing new products and services that utilize digital technology.
Long-term vision
The Sawai Group has formulated our "Sawai Group Vision 2030," and as a first step, we have created a new three-year mid-term business plan, named "START 2024," with the final year being fiscal 2023 (ending March 2024). In addition to further developing and expanding our generic drug business, we aim to realize new growth by investing management resources into new businesses. We appreciate your continued support.
Mitsuo Sawai